Products, dormakaba News
dormakaba and Scheidt & Bachmann agree collaboration in parking and building access management
Thursday, 9 March 2023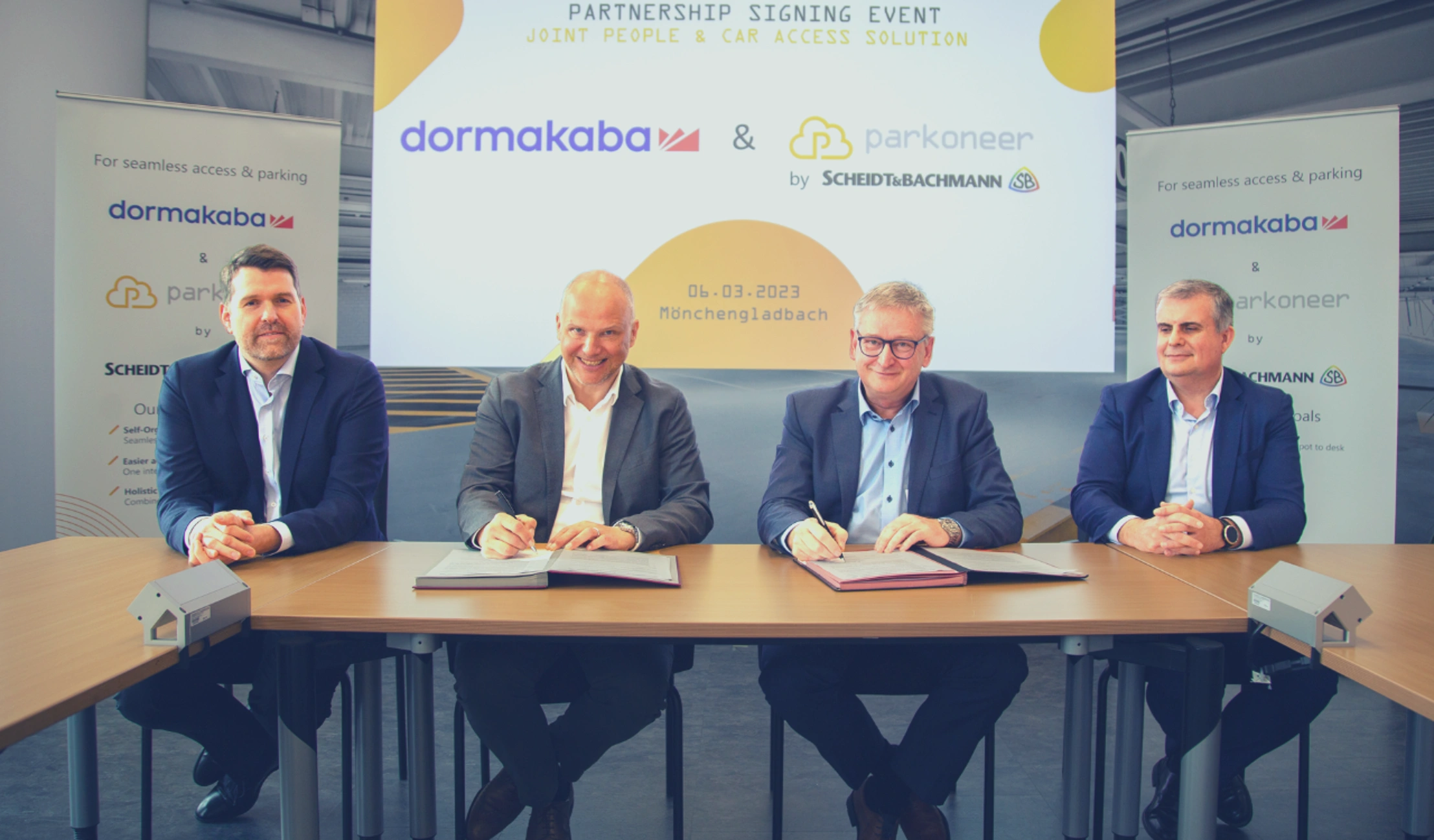 Rümlang, 9 March 2023 – dormakaba announces the conclusion of a cooperation agreement with Scheidt & Bachmann. Scheidt & Bachmann is a global provider of system solutions for intelligent mobility and, with its Parking Solutions business unit, a leader in pioneering parking management solutions. As part of the agreed collaboration, dormakaba and Scheidt & Bachmann will develop a complete parking and building access management solution. The collaboration will see the Scheidt & Bachmann access solution parkoneer integrated into the dormakaba access systems exos and MATRIX. The collaboration has officially been in place since 6 March 2023.
The modern working world requires increasingly flexible workplaces due to varying mobility behaviour and the desire of employees for self-determination. These societal changes are taken into account by dormakaba and Scheidt & Bachmann through an integrated solution of access systems that allow employees seamless access from the car park to the respective workplace.
'Buildings and the areas around them, such as parking spaces, are often considered and managed separately. But this does not do justice to the new world of work,' says Thomas Herling, Lead Global Business Owner Ecosystem at dormakaba. As leading companies for access systems and parking management systems respectively, dormakaba and Scheidt & Bachmann are committed to eliminating this separation by networking their existing technologies and taking a holistic approach to create added value for the dynamic use of smart buildings. Herling adds: 'With its pioneering parkoneer solution, Scheidt & Bachmann, as a leading smart parking provider, offers exactly the property management system module for car access that, in combination with our access systems, creates a single integrated system for customers. All access and entry processes can be managed jointly via this system. It also offers real-time usage options to meet demand.'
Digital transformation and dynamism for parking
​The parkoneer solution brings together Scheidt & Bachmann hardware in a compact setup consisting of a barrier, a camera and a control unit with a QR code scanner and intercom. Access is granted to pre-registered users through number plate recognition. All parking processes are managed intuitively through the parkoneer software, which is entirely web-based and can be used on any device. Lean, digital processes reduce administrative effort. parkoneer also enables the dynamic allocation of parking spaces, minimising fluctuations in capacity utilisation.
As well as the property management system, parkoneer is also integrated into the dormakaba access control systems exos and MATRIX via a software connector. This enables users to operate on a digital platform with seamless parking and building access management. 'There are many clear advantages,' says Thorsten Braun, Director of Global Operations at Scheidt & Bachmann Parking Solutions GmbH. 'The flexible self-organisation and seamless access to the car park, buildings and premises are self-evident factors. Added to this are the considerably simplified administration of access and parking management, increases in the utilisation of the parking area, optimised cost efficiency and – last but not least – greater employee satisfaction.'
About Scheidt & Bachmann
​The family-owned company was founded in 1872 and is managed by Dr Norbert Miller, representing the fifth generation of the family. Through its intelligent mobility systems, Scheidt & Bachmann, as a group, provides mobility solutions to millions of people across all continents every day. parkoneer is another building block in enabling a mobile world and is part of Scheidt & Bachmann Parking Solutions – the decades-long global leader in smart parking and a provider of future-oriented parking management solutions. With parkoneer, Scheidt & Bachmann offers a tailor-made solution for the access control, management and dynamism of private parking areas. More information about parkoneer can be found at www.parkoneer.de.