dormakaba News
"Mobile forms of work have many positive effects on mental health"
Wednesday, 15 February 2023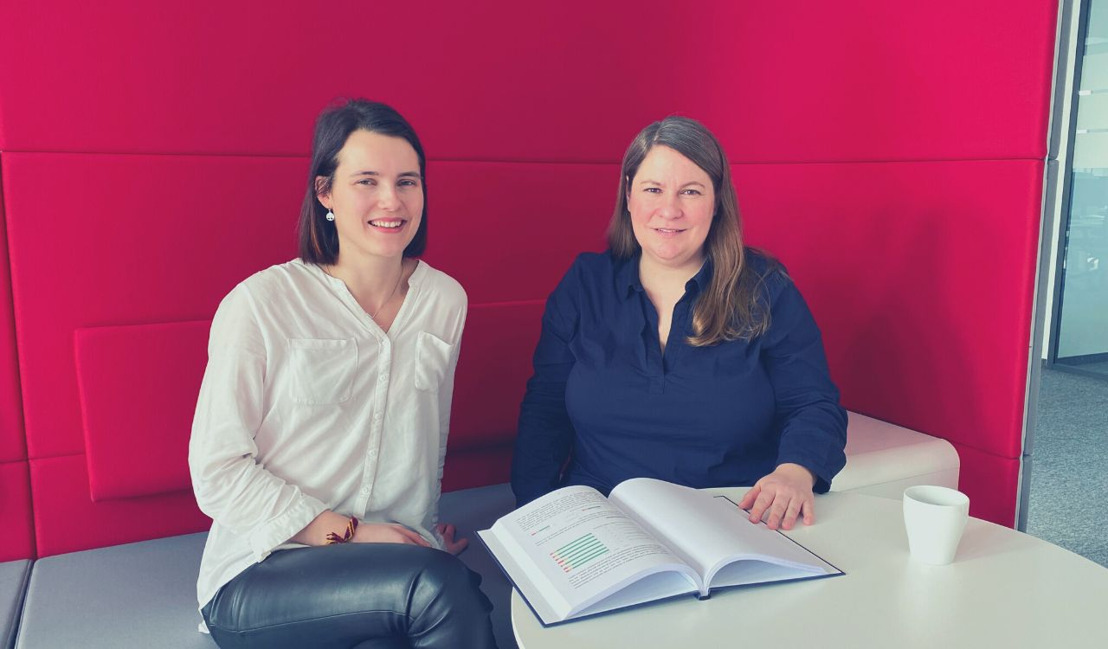 Mobile working has come into focus not only, but primarily since the Covid-19 pandemic. But how does this form of work affect mental health? And how can potential stress factors be counteracted in a preventive manner? Malin Zühlke studied for a master's degree in "Health and Diversity at Work" at the Hochschule für Gesundheit (HS Gesundheit) in Bochum and got to the bottom of precisely these questions in her final thesis. Not on her own, but in collaboration with an internationally positioned partner from the field, the Swiss dormakaba Group, which specializes in access solutions and where Malin Zühlke now works as a Global Diversity & Inclusion Expert.
The focus of the master's thesis was, in addition to comprehensive literature research on mental stress at mobile work, a broad online survey across the worldwide locations of the corporate group, in which more than 300 dormakaba employees participated. The result? "When it comes to mental health, mobile working is rated better on many questions than working on-site in the office. Or to put it another way: mobile forms of work have many positive effects on mental health," confirms Malin Zühlke, backing up her words with arguments. "Improved concentration, greater flexibility, higher quality of sleep, increased energy levels left over for private life in addition to the job because, for example, the daily commute is eliminated - all of these have a positive effect on mental health. These are just a few aspects of mobile work queried in the survey." In her evaluations, however, Malin Zühlke also identified possible stress factors associated with mobile working. These would primarily include social and work organization factors. "The most frequently mentioned aspects are: Overtime, constant availability, feeling left alone with tasks and the feeling of social isolation."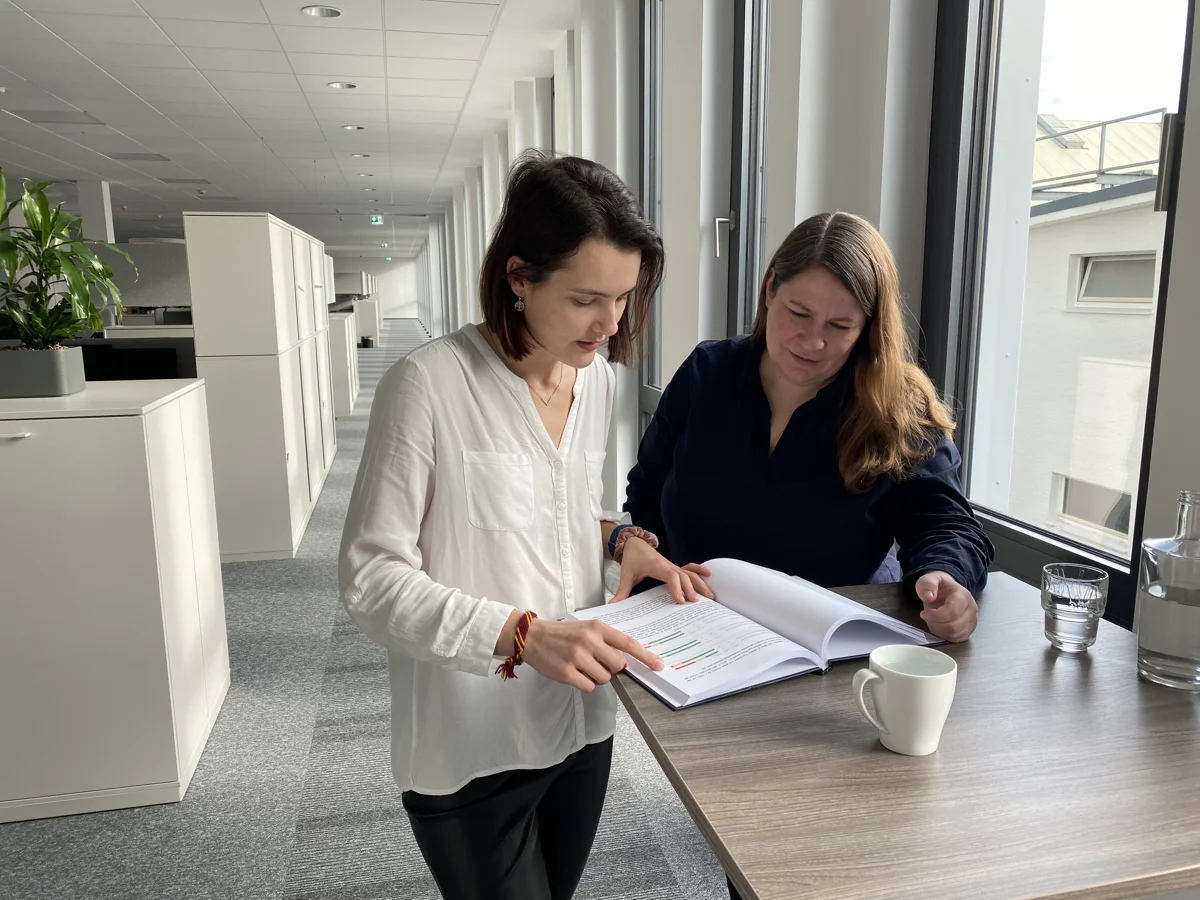 This is where science is transferred into practice: Malin Zühlke (left) and Sandra Ohlig worked closely together for the master's thesis on mobile working and the effects of this form of work on mental health.
The original interview in German is available at "gesichter - Das Online-Magazin der Hochschule für Gesundheit in Bochum" https://magazin.hs-gesundheit.de/forschen-entwickeln/mobile-arbeitsformen-haben-viele-positive-auswirkungen-auf-die-mentale-gesundheit/
But how can these factors be prevented? Malin Zühlke has asked dormakaba employees - with self-developed guideline interviews. "I identified approaches that can preventively promote the health of employees in mobile work," she explains, citing examples. "Basically, as various models from theory show, solutions can be found in leadership, the workforce itself or the corporate culture, etc. The best examples: a transparent and interactive work culture that emphasizes, among other things., that it's perfectly okay to take breaks even when working on the move. These could be shared in one's own calendar, clearly visible to all, as well as the times at which one is available or not. There could also be a rule in the company, for example, that no meetings are scheduled at lunchtime. At dormakaba, this is already the practice in many teams. And when it comes to overtime: Setting your fixed closing times and then removing work from your field of vision promotes health."
In addition, their analyses have revealed solutions such as virtual coffee kitchens or lunch rounds to fight social isolation, and training initiatives on topics such as 'digital leadership' or 'stress management'. "Daily virtual lunch rounds have already been established in some dormakaba teams, and webinars on stress management have also been held. Managers could also be trained, for example, to specifically encourage their employees to speak up when difficulties arise. Regular individual discussions are also an important keyword here," advises Malin Zühlke. "In addition, tips and experience reports from colleagues for colleagues on mobile working could be shared on the company's own intranet. On the dormakaba intranet, for example, there is a toolbox on the topic of 'mobile working' as well as a 'Wellbeing Info Hub'. This intranet page contains general information and tips on the topic of stress and mental wellbeing. In addition, current events, messages, as well as suitable training offers are shared."
Sandra Ohlig, who is responsible for global employer branding and the acquisition of new employees at dormakaba, is pleased about the direct practical benefits of the collaboration with HS Gesundheit: "With the Covid-19 pandemic, we have expanded our experience in working from home, and so the question arose in the organization as to whether working remotely should be further established globally and whether it is a beneficial working model for our employees. Seeing empirically validated that our assumption is correct that mobile working has a positive effect on mental health in many respects supports our path to further expand mobile working at dormakaba worldwide and to pursue a hybrid working model," says Sandra Ohlig. Some of the recommendations for action identified with the master's thesis for targeted health-promoting and preventive measures are already being implemented, she adds. "We created a new permanent position in the company following the results of the master's thesis and offered it to Malin Zühlke after her studies. Promoting the health of our employees and continuing to work on a culture of wellbeing is important to us. Malin brings the university's scientific perspective to the company and is now working on directly implementing the results from her master's thesis at our company," Sandra Ohlig explains.
Graduate Malin Zühlke: "I am grateful that the practice-oriented teaching and research at HS Gesundheit prepared me so well for this."
Malin Zühlke was happy to accept the direct job offer: "I am very pleased that the need for health promotion is seen at dormakaba and that I can tie in directly with my master's thesis in the company. Transferring scientific input into practice is exciting, and I'm grateful that I was so well prepared for this through the practice-oriented teaching and research at HS Gesundheit." Malin Zühlke first graduated from the University of Duisburg-Essen with a double Bachelor's degree in Communication Science and Anglophone Studies before coming to HS Gesundheit for her master's degree. "I am glad that HS Gesundheit is so open, promotes interdisciplinarity, and that I was able to study there. I learned so many new things for my future path. For example, communication is not as far away from health promotion as I initially thought."